Howdy!
<

!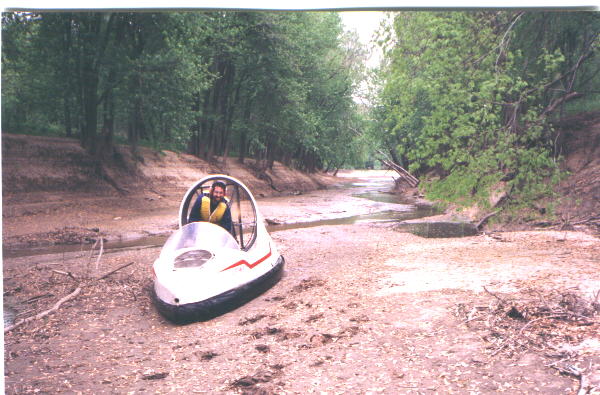 <!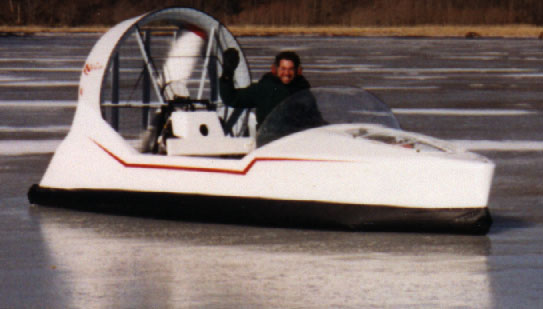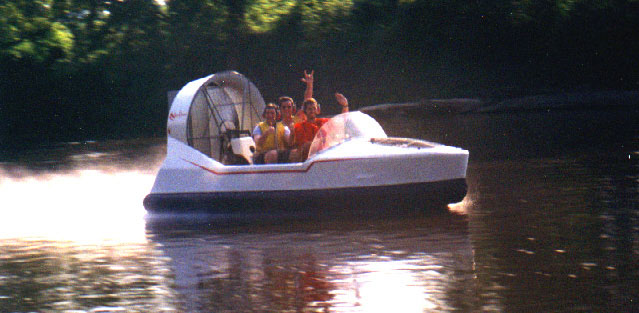 One of my favorite toys when I was growing up was a matchbox model of the SRN6 hovercraft. Somehow or other, I discovered that the model was a pretty close replica of the real thing - a vehicle the size of a bus that floated inches over land or water on a cushion of air. In 1978, when I was 10, I saw hovercraft in person for the first time when I watched the US Army Corps of Engineers use a large hovercraft to clear away ice on the Kankakee River, south of Chicago. I never lost my fascination with hovercrafts, although I didn't see another air cushion vehicle until a few years ago, when I searched the web and found out about the Hoverclub of America. I soon visited Weber Hovercrafts and not only saw one, but got a chance to try driving one for myself. These days, I've started a model hovercraft business, I get to see plenty of hovercrafts at Hoverclub events, and I zip around in my own Weber StarCruiser with other Chicago-area hovercrafters.
---
---
Photos and Stories:
Kankakee River, 1978
<! Visiting the Webers for the first time
Terry's amazing jump (on purpose), Matt's even more amazing jump (by accident), and a photo of Verdon Weber's sandbar jump.
My mother learns to drive a hovercraft
The 1998 Winter Hover-in, Cordova, IL (wing in Ground Effect photos). See the Weber Hovercraft site for photos of the 1999 Winter Hover-in!

---
---
I'm always on the lookout for hovercraft books. Most books on the subject were printed in the late 60s and early 70s as hovercraft sales increased around the world. I recently discovered a terrific book in print and on sale right now titled "From River To Sea". The book covers the history and development of a majority of large hovercrafts such as, you guessed it, the SRN6. Here's a review and here are some pictures from the book.

---
---
<

!Click www.glacierweb.com/home/view.cgi?ericgoldstein www.glacierweb.com/home/sign.cgi?ericgoldstein" > When I first searched for hovercraft info on the web, there were about four hovercraft sites. There is now a ton of hovercraft info available on the web. See my extensive (but now rather out of date!) list of Hovercraft Web Pages.

---
Want to find out more about hovercrafts? Want to ask questions? Want to get in contact with hovercrafters all over the world? Want a ride? Want to get one of your own? Wherever in the world you live, the best way to start is by joining a hovercraft club!

---

---